PRACTICAL TOOLS, SKILLS, AND PROMPTS FOR AFFIRMING YOUR ADOPTED CHILD'S CULTURAL IDENTITY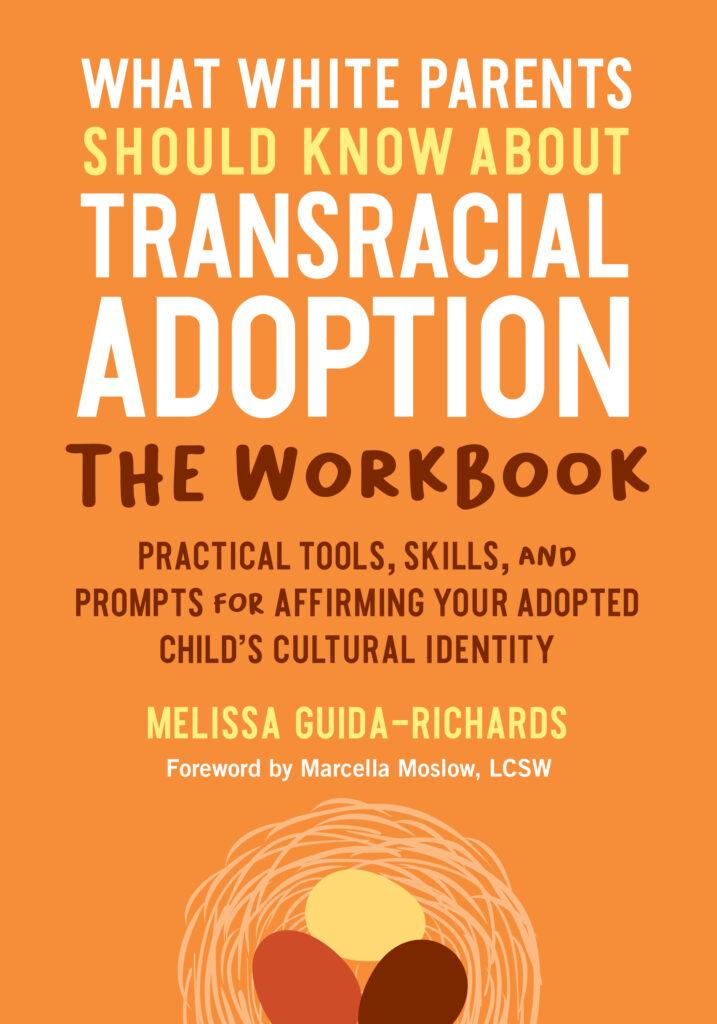 Where and when can I buy a copy?
WWPSKATA: The Workbook, will be out July 18th, 2023. Paperback and Ebooks are available for preorder from most online retailers.
ABOUT WHAT WHITE PARENTS SHOULD KNOW ABOUT TRANSRACIAL ADOPTION: THE WORKBOOK
A companion to What White Parents Should Know about Transracial Adoption, this practical workbook guides readers to better understand transracial adoption and do the work of anti-racist, trauma-informed parenting.

A must-read for white parents who have transracially adopted or prospective parents considering transracial adoption, this follow-up to What White Parents Should Know about Transracial Adoption offers a wealth of activities, templates, and questions for self-reflection. Melissa Guida-Richards, who learned at the age of 19 that she was adopted from Colombia as an infant, addresses the complexities of transracial adoption with insight, compassion, and the wisdom of lived experience. Through thought-provoking questions and activities, Guida-Richards guides you to:
Consider the role of infant-mother bonding and understand developmental trauma in adoptees
Understand the complex history of adoption; recognize illegal and unethical practices, such as trafficking operations and baby factories; and ask the important questions when working with adoption agencies
Look more deeply at implicit bias, white saviorism, and white fragility
Locate and utilize adoption-competent mental health care
Offer culturally aligned education, community, and resources to your child
Acknowledge the effects of racism and celebrate your child's race and culture
Throughout the workbook, Guida-Richards guides you to break free from toxic positivity, understand and drop defenses, engage in difficult conversations, and learn to listen to your child's experience. Whether you are a potential parent considering a transracial adoption, a parent of an adopted child, or a therapist or advocate working with adoptive families, this practical and engaging workbook will help you "do the work" of furthering anti-racist, child-centered, and trauma-informed parenting.
Author's Note:
I am also really excited to share that Marcella Moslow, LCSW, not only wrote the foreword but also contributed many helpful notes throughout the book to help adoptive families take information and activities to the next level. And as an added bonus, I was able to include some contributions by adoptees, former foster youth, and some adoptive parents as well!
If you are looking to connect with Melissa or Marcella for an interview or media appearance please contact adopteethoughts.contact AT gmail DOT com.