An Interview with an Adoptee, Who Exposed his Illegal Adoption in a Viral TikTok Challenge.
–
Adoptee Thoughts
On Season 3, Episode 6 of the Adoptee Thoughts Podcast, Christian Aragon and host Melissa Guida-Richards discuss the shocking story of his illegal adoption and reunion with his biological family. You may recognize some of his story from his viral video with "Put a Finger Down" challenge.    About the Adoptee: Christian Matthew Aragon was illegally adopted and raised by a woman who claimed to be my birth mother. He found his biological family at 36 and is just now getting to start his life with them.     How to connect: Follow him @mattaragon87 on TikTok!  _________   To read more of the work by your host Melissa Guida-Richards and resources available for purchase from panels to workshops, to book club information go to adopteethoughts.com or her Instagram:  https://www.instagram.com/adoptee_thoughts/     Her book are available anywhere books are sold. What White Parents Should Know About Transracial Adoption: An Adoptee's Perspective on Its History, Nuances, and Practices   Preorder the companion Workbook here: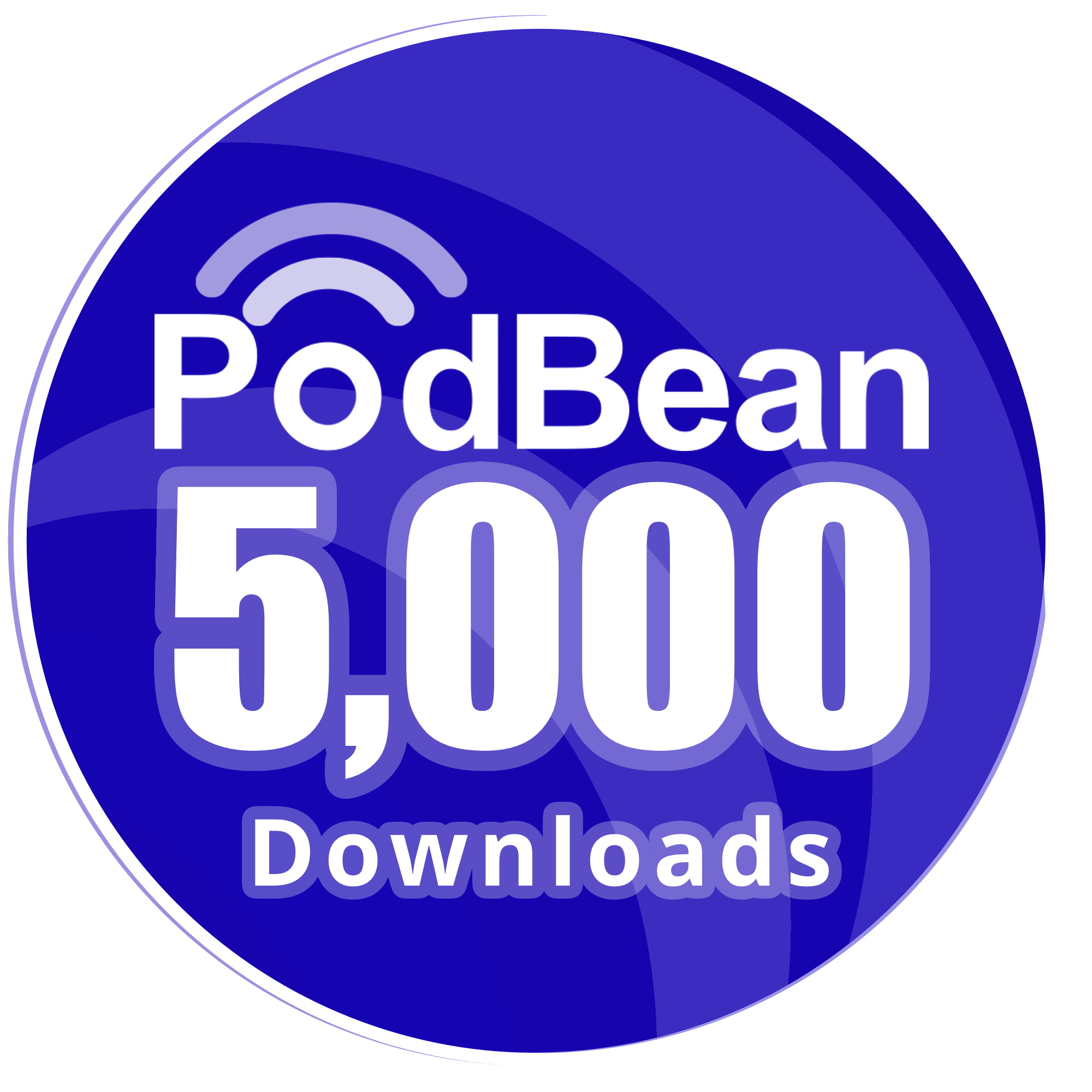 Season 2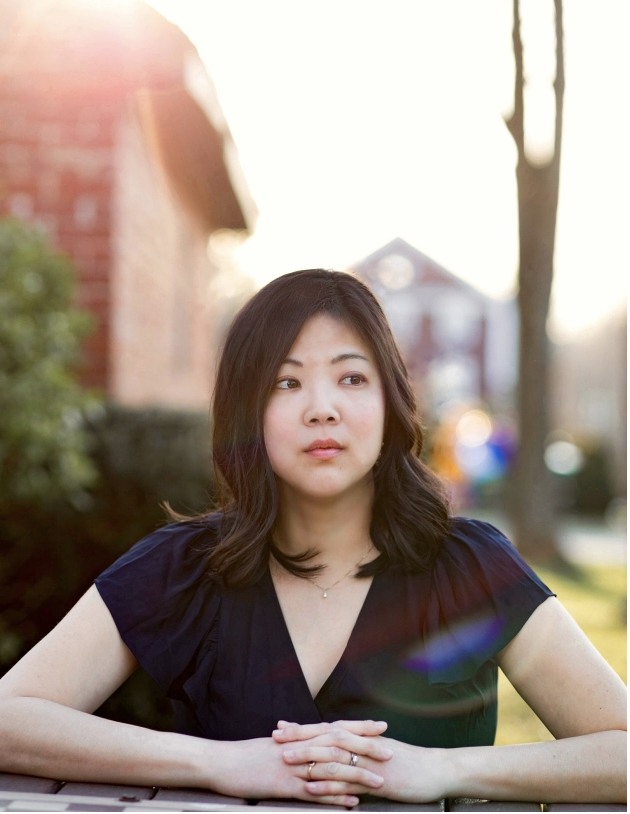 On Season 2, Episode 1 of the Adoptee Thoughts Podcast, Nicole Chung, and host, Melissa Guida-Richards discuss their experience with losing a loved one as an adoptee, as well as their writing process. Nicole shares some of her story as an adoptee, and advice for adoptees looking to get into writing.
Nicole Chung is the author of the nationally bestselling memoir All You Can Ever Know (Catapult, US; Pushkin Press, UK). Named a Best Book of the Year by two dozen publications, All You Can Ever Know was a finalist for the National Book Critics Circle Award, a semifinalist for the PEN Open Book Award, an Indies Choice Honor Book, and an official Junior Library Guild Selection.
Chung's writing has appeared in The New York Times, The New York Times Magazine, The Guardian, GQ, TIME, Longreads, and Vulture, among others, and she also writes a weekly Care and Feeding advice column for Slate. She is the editor-in-chief of the National Magazine Award-winning Catapult magazine and the former managing editor of The Toast. Her next book is forthcoming from Ecco Books/HarperCollins.
Find Nicole on Twitter: @nicolesjchung & Instagram: @nicolesjchung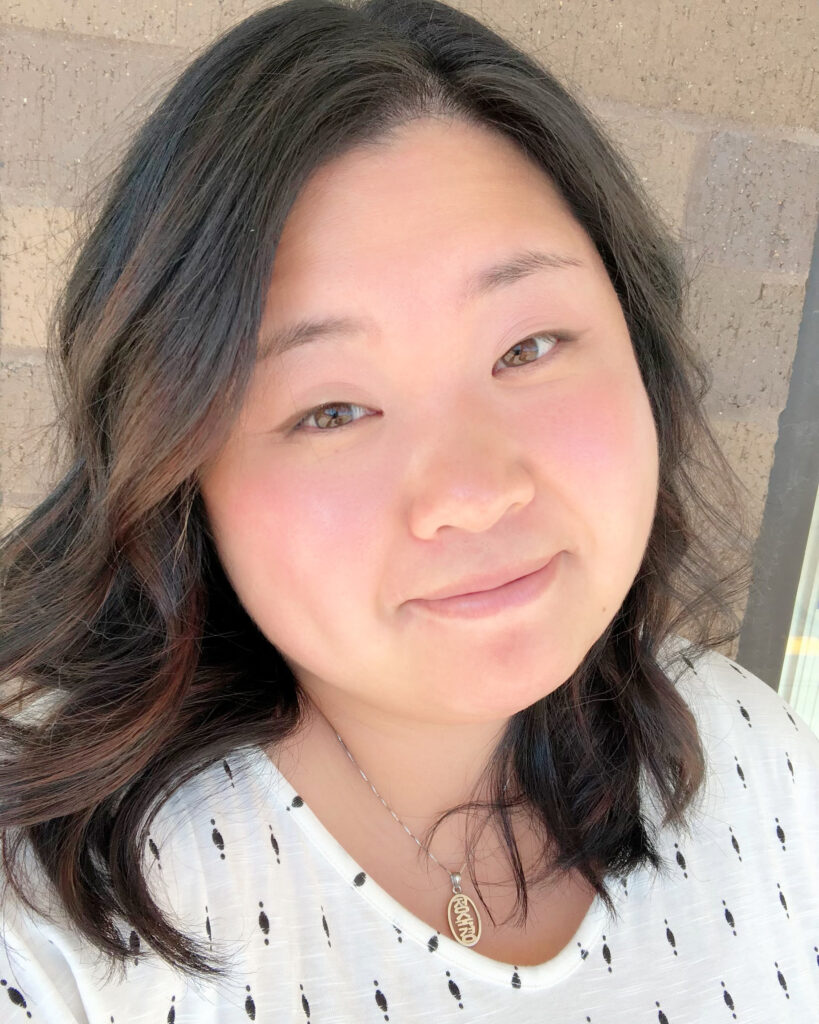 On Season 2, Episode 2 of the Adoptee Thoughts Podcast, Christine Heimann, and host, Melissa Guida-Richards discuss their experience as international adoptees and the complexities of searching for birth family. Christine discusses why she created Adoptee Bridge and a little about her work with adoptees and adoptive families.
Christine Heimann 정주빈 is a Korean American, transracial adoptee who has volunteered or worked with adoptees and adoptive families for over 15 years. In 2017, Christine founded AdopteeBridge, which is a 501(c)(3) non-profit, providing post-adoption support services to transracial and transnational adoptees and their families. Christine is passionate about providing post adoption services and resources to the adoptee community and this can be seen through the vision and programming of AdopteeBridge. Connect with Christine here: www.adopteebridge.orgwww.facebook.com/adopteebridgewww.instagram.com/adopteebridge Email: [email protected]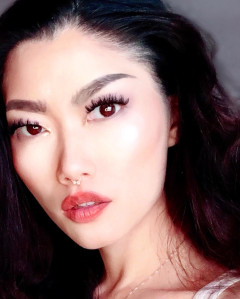 On Season 2, Episode 3 of the Adoptee Thoughts Podcast, Jenny Heijun Wills, and host, Melissa Guida-Richards discuss Jenny's Memoir Older Sister, Not Necessarily Related (now available in paperback) and the intricacies of reunion with birth family.
Jenny Heijun Wills is the author of Older Sister, Not Necessarily Related (McClelland & Stewart, Penguin Random House Canada, 2019), which won the 2019 Hilary Weston Writers' Trust Non-Fiction Prize and the 2020 Eileen McTavish Sykes Best First Book Award. She is also the co-editor of Adoption & Multiculturalism: Europe, The Americas, and the Pacific (University of Michigan Press, 2020).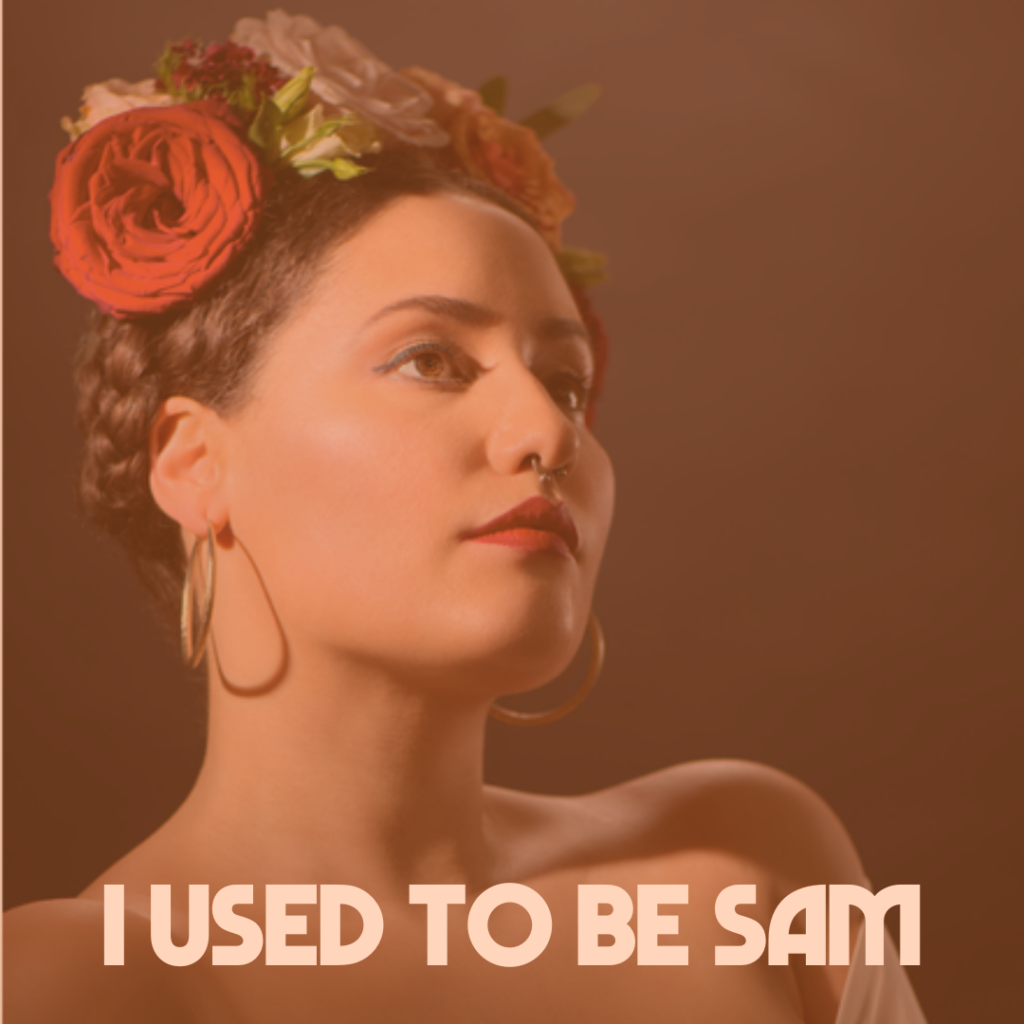 On Season 2, Episode 4 of the Adoptee Thoughts Podcast, Annie Goodchild, and host, Melissa Guida-Richards discuss Annie's new video project, "I Used to Be Sam." This project will use interviews of fellow adoptees to an EP and audio visual project series discussing transracial adoptee experiences in addition to the one that is unique to her own.
Anyone interested in participating can submit to: [email protected]
Deadline: May 15, 2021 6:59 am (EST)
About Annie Goodchild:
On the day Annie Goodchild was adopted, her name changed. I Used to Be Sam is an American music artist whose career has left remarkable traces around the world. From selling out arenas as the lead singer to Scott Bradlee's Post Modern Jukebox, to opening for Alicia Keys, I Used to Be Sam's journey now leads her to expose all in her most emotional and personal project yet. I Used to Be Sam's self-titled EP strips away years of emotional armor to bare all and share her personal experience of self-discovery and self-love, as a transracial adoptee who grew up in the care of a white family.
Website: http://anniegoodchild.com
Instagram: @goodchild.annie
Season 1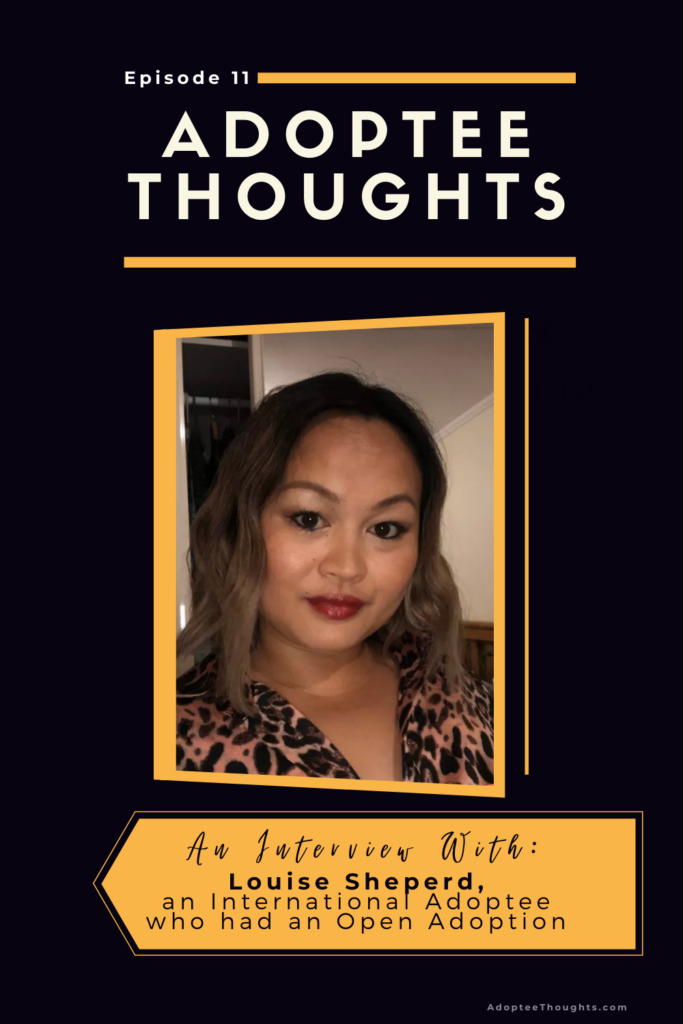 On Episode 11 of the Adoptee Thoughts Podcast, Louise, and host, Melissa Guida-Richards discuss the unique experience as an international adoptee who grew up in an open adoption, coming out of the fog, and more.
Louise's Bio:Louise Shepherd was born as "Fenny" on the island of Java, in Indonesia in 1982. At 6 months old she was adopted by a white Australian family. It was then her name was changed to Louise.
The family consisted of mum, dad, two biological sons, and then Louise. Two and half years later the family adopted her sister from Seoul, South Korea.Louise grew up in Adelaide, South Australia. Louise lives on Kaurna Land. In 2009 Louise completed her Bachelors of Social Work and Social Planning. She is currently working in the Homelessness sector and has previous experience working in Child Protection. Louise feels passionate about many human rights topics, in particular the plight of Aboriginal and Torres Strait Islander Peoples.
Louise is mum to one healthy and boisterous, thriving 6-year-old little boy. She enjoys going to the beach, trying different food cuisines, and spending time with friends and family. Louise also says a good afternoon nap never goes astray either.
Follow Louise on Instagram!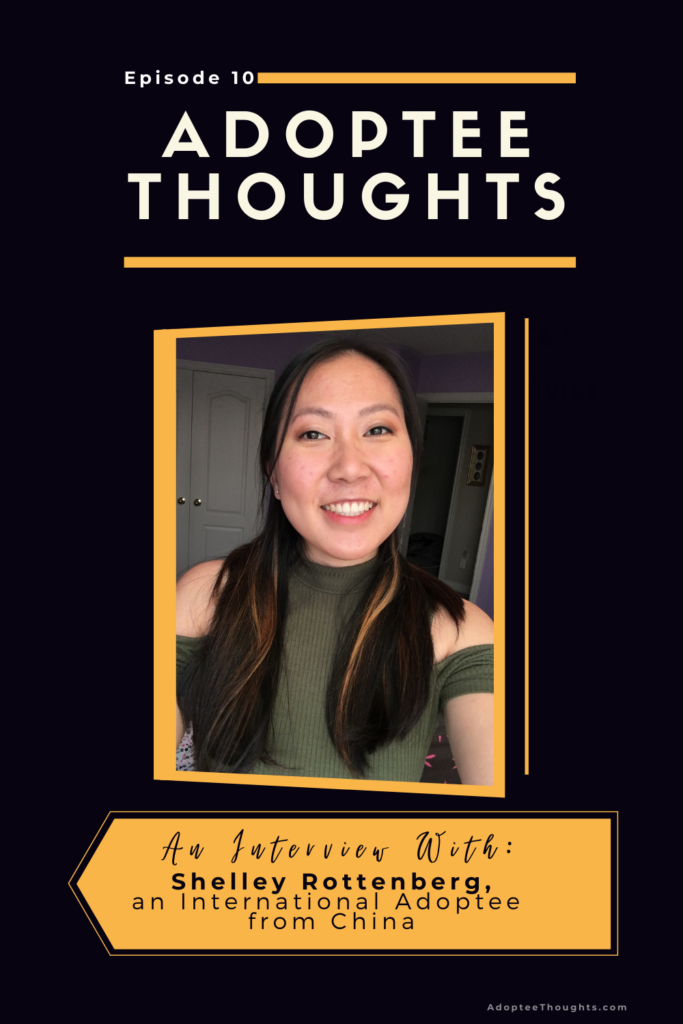 On Episode 10 of the Adoptee Thoughts Podcast, Shelley, and host, Melissa Guida-Richards discuss the intricacies of being an international adoptee, the benefits of having an adopted sibling, and the experience of being raised by a single mom.
Shelley's Bio:My name is Shelley Rottenberg and I'm a Chinese adoptee. I was adopted from Zhejiang province when I was 8 months old and I now live in Southern Ontario. I have a Masters in Human Geography and am really interested in exploring the connections between people and places. I conducted research on the Lived Experiences of Chinese Adoptees in Canada for my undergraduate thesis. My desire to connect with other adoptees and to learn more about their experiences continues to grow over time.
Follow Shelley on Instagram!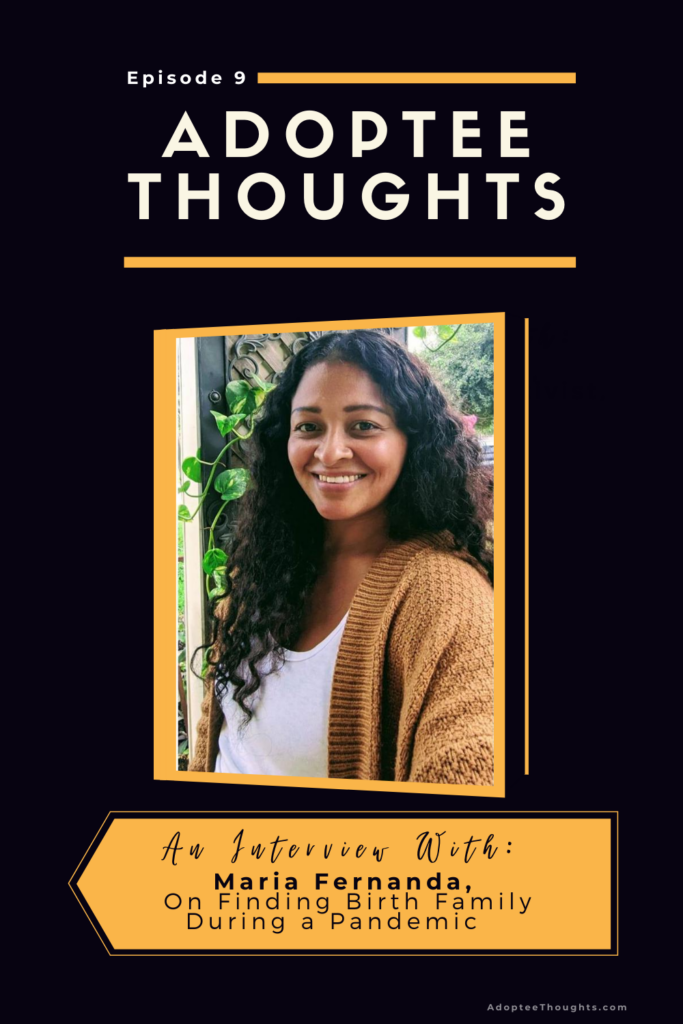 On Episode 9 of the Adoptee Thoughts Podcast, Maria, and host, Melissa Guida-Richards discuss how they handled finding birth family during a pandemic, the nuances of sharing the journey with adoptive parents, and how being adopted has impacted their parenting.
My name is Maria Fernanda. I am a Transracial Adoptee. I was born in Quito, Ecuador, South America. I was adopted at age 2 and brought to the United States where I have lived ever since. I have always known I was adopted, but it was not really until I was pregnant with my first child that I began to feel that I wanted to search for answers. It has been thirteen years since I began my journey to deep healing and self-discovery.
Right before the world shifted due to the pandemic, I began doing more intense birth family searching. Suddenly, I found my birth mother, my birth father, and my birth siblings. The journey to healing does not end for adoptees, in fact, once the reunion occurs it is as if we go back to the beginning with everything. My hope is to share my story, connect with other adoptees, and give support.
Instagram: A Butterfly Series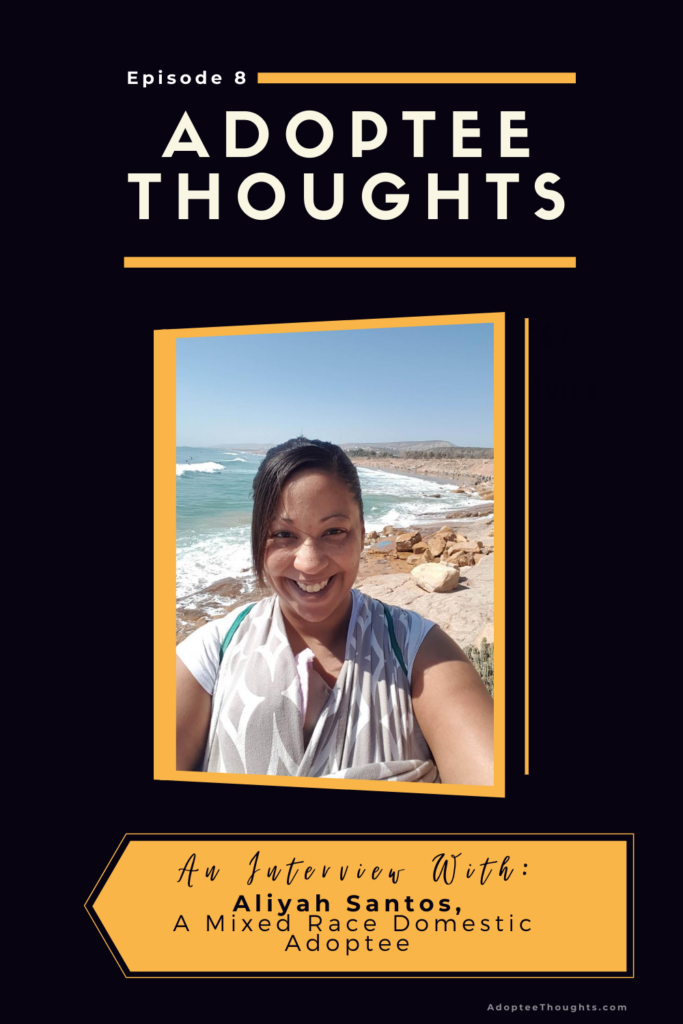 On Episode 8 of the Adoptee Thoughts Podcast, Aliyah, and host, Melissa Guida-Richards discuss her experience growing up in a predominantly white community, racism, and her experience working in foster care after seeing the flaws in the system.
Aliyah Santos is a TRA, writer, podcaster, and single mother of 4. After finally leaving the fog at the age of 30, Aliyah set out to heal the trauma of growing up adopted in an abusive home through world travel with her kids. Now she's made a temporary home for herself and her family in Morocco and podcasts about traveling and breaking cycles of trauma.
Her podcast is 4 Kids & Me Overseas. Instagram: broken2brave Facebook:broken2brave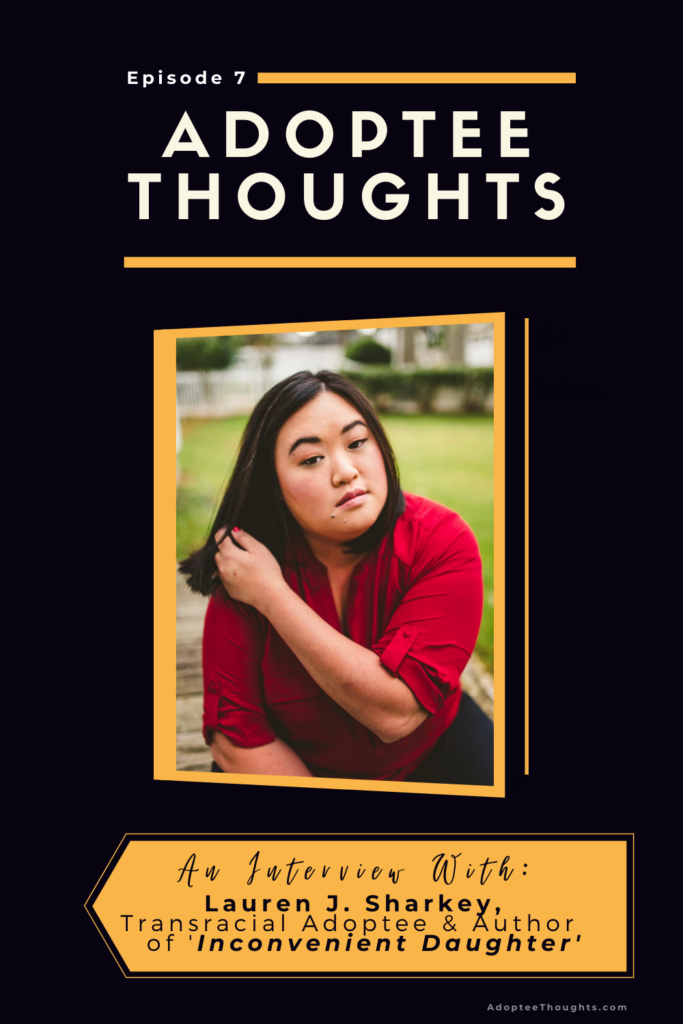 In Episode 7 of the Adoptee Thoughts Podcast, Lauren and host, Melissa Guida-Richards have a chat about her debut book that reflects some of her experiences as an adoptee, how being an adoptee impacts other relationships in our lives, and her thoughts on the industry of adoption.
Lauren J. Sharkey is a writer, teacher, and transracial adoptee. After her birth in South Korea, she was adopted by Irish Catholic parents and raised on Long Island. Sharkey's creative nonfiction has appeared in the Asian American Feminist Collective's digital storytelling project, First Times, as well as several anthologies including, I Am Strength! and Women under Scrutiny. Inconvenient Daughter is her debut novel and loosely based on her experience as a Korean adoptee.
You can follow her at ljsharks.com Buy her book, INCONVENIENT DAUGHTER!
Social Media:
Twitter @theljsharks #InconvenientDaughter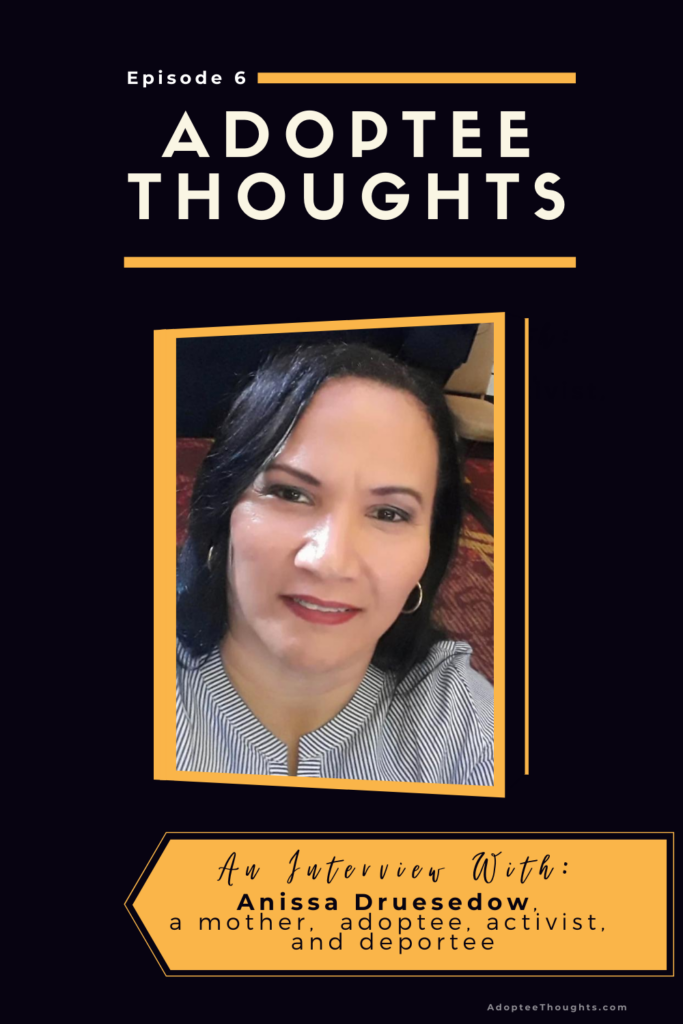 Episode 6: An Interview with Anissa Druesedow Anissa E. Druesedow, mother, adoptee, activist, and deportee. In episode 6, she shares her story of family separation and deportation as an adoptee without citizenship. Adoptees for JusticeWays to Help
On Episode 5 of the Adoptee Thoughts Podcast, Guida-Richards talks with Jessica and discusses her experience finding and reuniting with her birth family, her work in mentoring fellow Adoptees, and helpful advice for adoptive parents.
Mentorship at Spence-Chapin: NYC based Mentorship
All Together Now: Brooklyn based Mentorship
Based in New York, Jessica M. Luciere (she/hers), is a mother, photographer, transracial adoptee, and adoptee advocate who has spent 15+ years working with adoptive families from all around the world. Jessica is the President of All Together Now, a mentoring program based in Brooklyn NY, and the Director of the Spence-Chapin Mentorship program in New York City, both serving adoptees and their families. Her involvement in mentorship has given her the opportunity to witness the adoptee experience from many different lenses and learn from all of those within the adoption constellation. This has been the most important work Jessica has done and she continues to develop and grow programming for this community that is so close to her heart.
Email Jessica at JMLuciere.nyc@ gmail DOT com
Follow her on Instagram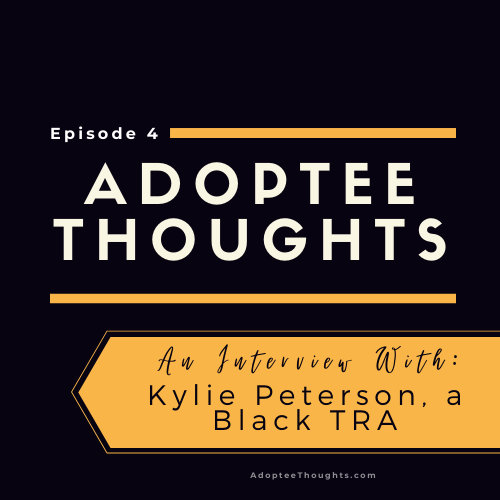 On Episode 4 of the Adoptee Thoughts Podcast, I have the honor of interviewing fellow transracial adoptee, Kylie Peterson. She talks about growing up as a Black TRA with white adoptive parents and how she has been discussing race and BLM with her family during this time. Kylie also shares some great tips for fellow transracial adoptees and we delve into some great insights that are essential for adoptive parents.
Find Kylie on Instagram here!