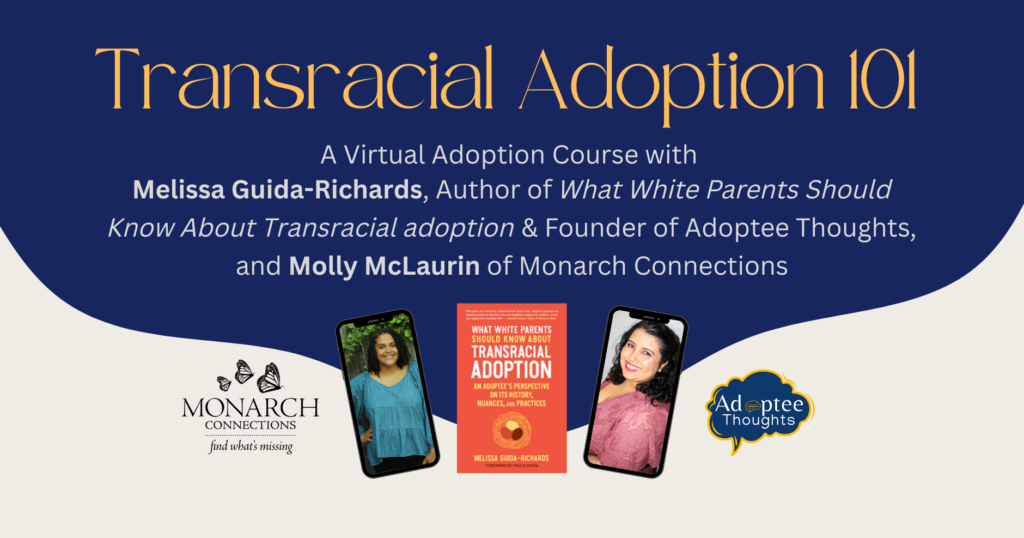 TRANSRACIAL ADOPTION 101:
A 4-week course for anyone who is considering transracial adoption or has adopted.
Who is it for?
Transracial Adoptive parents and family members who want to support the transracial adoptee in their life. The goal is to help provide families with the resources so more adoptees feel supported in their adoptive families.
What is included in the cost?
A 4-week course for $250/couple or per two family members includes FOUR workshops that are 1.5 hours long, by adoption experts Melissa Guida-Richards and Molly McLaurin
Access to a private Facebook Group with daily prompts by M&M (aka Melissa & Molly)
Weekly Resource Handout with Reflection Questions
What are our qualifications?
Melissa Guida-Richards is an adoptee advocate, an educator, and the author of What White Parents Should Know About Transracial Adoption. She was adopted in 1993 from Colombia to a family in the USA. After her viral essay, "My Adoptive Parents Hid My Racial Identity From Me for 19 Years," was published in Huffington Post in April 2019. She soon launched the Adoptee Thoughts Instagram and Podcast to help elevate adoptee voices and educate adoptive parents on the nuances and complexity of adoption. She has appeared on news outlets such as Washington Post, NYT, Tamron Hall, Good Day LA and has given workshops to dozen of agencies for adoptive parents and adoption professionals. For more, check out AdopteeThoughts.com.
Molly E. McLaurin is an adoptee, twin, wife, mom and business owner. Molly founded Monarch Connections to bring people together, find what's missing and to make meaningful connections. In 36 months, she has connected with 675 people at events and 25 through Life Coaching. One thing Monarch Connections created an adoptee community called Adoptee Talk, and Adoptee Talk: Teens, to empower adoptees. Growing up as a transracial adoptee, Molly often felt left out, and/or that she stood out in a way that was isolating. Monarch Connections and Adoptee Talk operate so others can belong. Molly authored, EXPLORING TRANSRACIAL ADOPTION AND THE INVISIBLE PROTECTION OF PRIVILEGE, while serving as a member of the Field Center's Young Professionals Council. She is glad you are here and hope you decide you can learn from this course and improve your adoptee(s) lives.
Praise for Workshops by Melissa:
"I wish more adoptive parents and their extended families were attending the incredible online workshops being put on by The Adoption Companion. We listened to Melissa Guida-Richards today.. Trans-racial adoptee and author of "What white parents should know about Trans-racial adoption" . It was so eye opening for me and I have been in the adoption space for 12 years." ~Justin Foxton, Adoptive Parent and Educator
"Wonderful, well-organized and informative!" ~Anonymous Adoptive Parent
"As an adoptive parent, it has been so helpful to get a knowledgeable and approachable perspective from an adult adoptee."~Dusadee S.
When & where are the classes?
All classes will be held on Zoom from 8 to 9:30 pm EST on
November 1
November 10
November 15
November 29
Questions?
Please email [email protected] if you have any questions or concerns.
Are there any discounts?
Yes! Early bird ticket pricing is only $200!!
There will be ticket fees for sales on Eventbrite so participants have the choice to purchase tickets on eventbrite or pay via venmo (with your email and TRA 101 in the note) @adopteethoughts before October 31, 2022, to hold your spot.
You will receive an email confirmation and if you do not please email us ASAP at [email protected]
Course Syllabus:
Transracial Adoption 101
Topic: Adoption Basics and Understanding Trauma
Workshop 1: From 8 to 9:30 pm EST on Tuesday, November 1
Introduction on Transracial Adoption & Its History
Teaching Trauma and its impact in the adoption and the family structure that will always exist
Dr. Trent McLaurin on trauma – exercise on trauma
Toxic positivity in adoption
Cycle of Grief for Adoptees and Adoptive Parents
Supply and demand
What is your why?
Q&A
Topic: Racial Identity and Power Dynamics
Workshop 2: From 8 to 9:30 pm EST on Thursday, November 15
Power dynamics in the US Adoption Industry
Unpacking the white adoptive parent loss
White Racial Identity and its role
Tackling racism in families
Unpacking and unlearning biases within your American context
Outlining racism in America – Molly presents
How to be an antiracist advocate
Centering the adoptee vs yourself
Learning from Adoptee lead resources
Topic: Cultivating Culture & Family
Workshop 3: From 8 to 9:30 pm EST on Thursday, November 10
What makes a family?
Dichotomy of Birth Parents
Prioritizing biological family connections
Melissa's & Molly's Reunion Story with Q&A
Do's and Don'ts 
International and Domestic Transracial adoptee MUST HAVES built into your life
Why is it important to incorporate culture, language, customs, etc
Activities to cultivate a strong and healthy identity as a TRA
TRA Identity Model
Citizenship 
Topic: Sharing & Social Media: 
Workshop 4: From 8 to 9:30 pm EST on Tuesday, November 29
Social Media and Your transracial family
Sharing vs advertising/fundraising, etc
Adoptee Consent and Voice
Who, What, When, Where and the Why

Narrative creation & influencing

Adoption and Influencers
Activities and tools to create mindful content